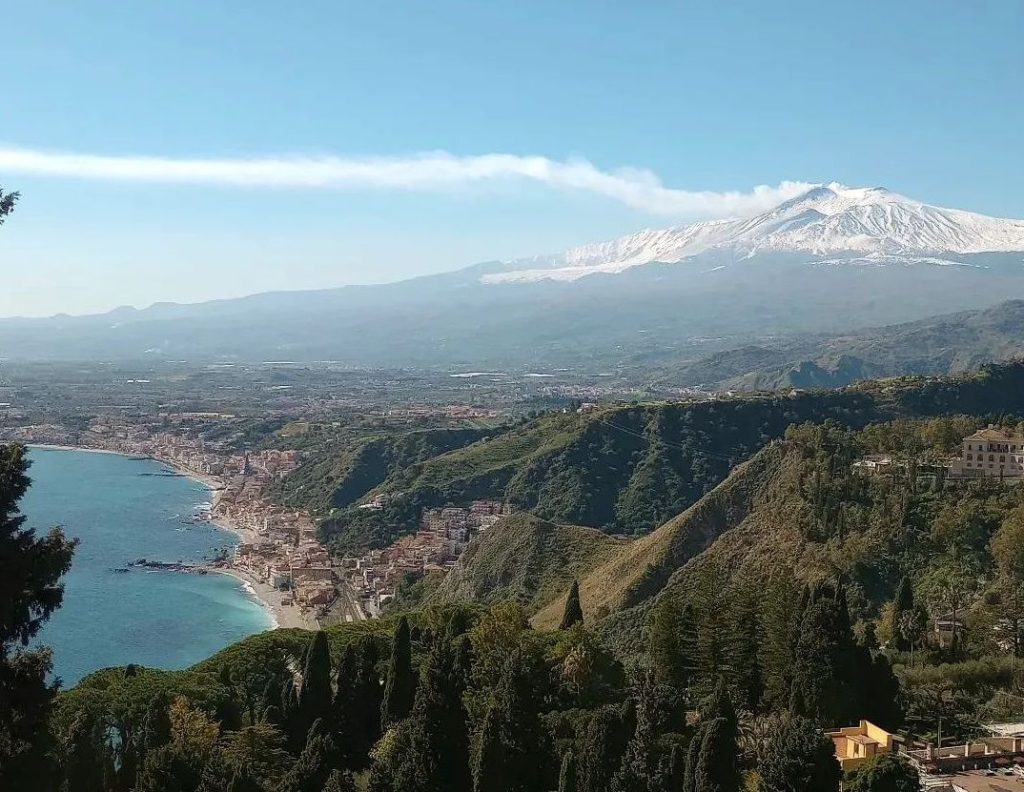 "The pearl of the Ionian sea"
Taormina is a charming town located on the eastern coast of Sicily, Italy. It is perched on a hilltop, overlooking the stunning Ionian Sea and surrounded by rugged mountains, Peloritani. The town certainly is famous for its picturesque beauty, rich history, and cultural heritage.
The town's most iconic landmark is the ancient Greco-Roman theater, which is one of the largest in Sicily and dates back to the third century BC and it's still used for concerts and live performances, and can seat up to 5,000 spectators; its spectacular views of the sea and the surrounding landscape make it an unforgettable experience.
A must-see attraction in Taormina is the Palazzo Corvaja, an impressive 13th century palace that now serves as the town's cultural center. Visitors can explore the palace's fascinating history and admire its unique architectural style, which combines Norman, Gothic, and Arabic elements.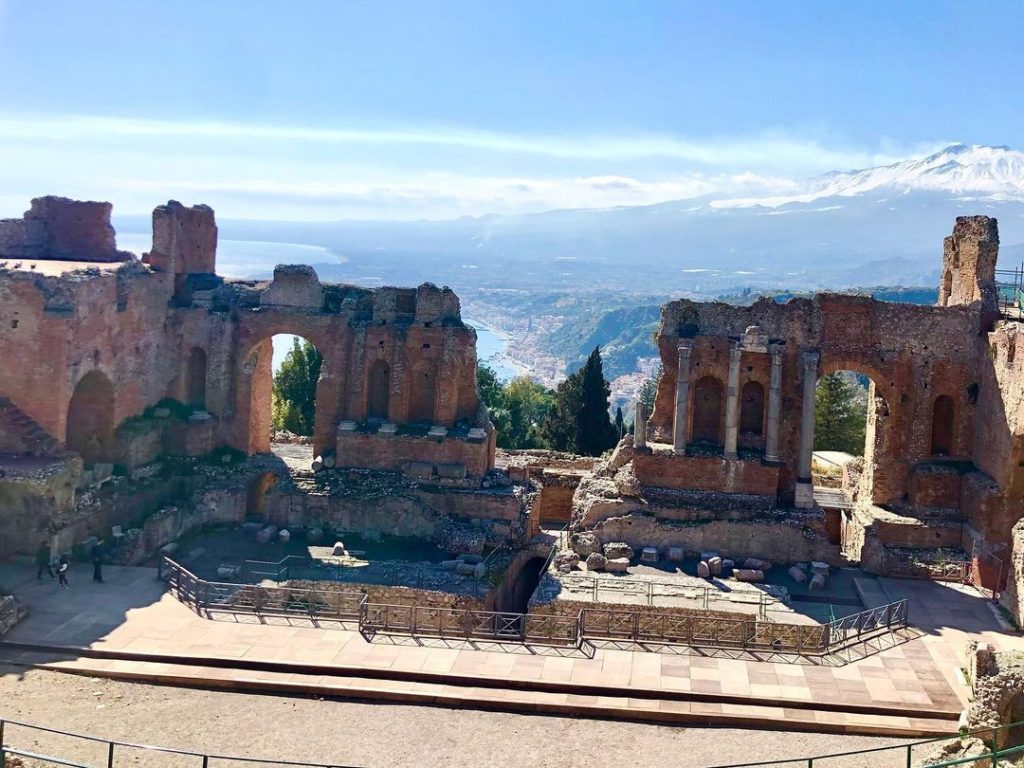 Taormina's old town is a maze of narrow streets and alleyways lined with colorful buildings, charming cafes, and boutique shops selling local handicrafts and souvenirs. The town's central square, Piazza IX Aprile, is a popular meeting place for locals and visitors alike and offers breathtaking views of the surrounding landscape. Here you can sit on benches and admire the town's wonderful views over the sea and towards Mt. Etna volcano. Corso Umberto runs through the historic centre between the two historic town gateways, Porta Catania to the south-west and Porta Messina to the north-east.
An English-style garden, it was designed by lady Florence Trevelyan, who lived in Taormina at the end of the 19th century is a Things to do.
The town is also renowned for its stunning beaches, such as the famous Isola Bella, a tiny island connected to the mainland by a narrow strip of sand. The crystal-clear waters and dramatic scenery make it a favorite spot for swimming, snorkeling, and sunbathing.
Taormina is a vibrant town with a rich cultural heritage, and its warm Mediterranean climate and breathtaking scenery make it a popular destination for travelers from all over the world.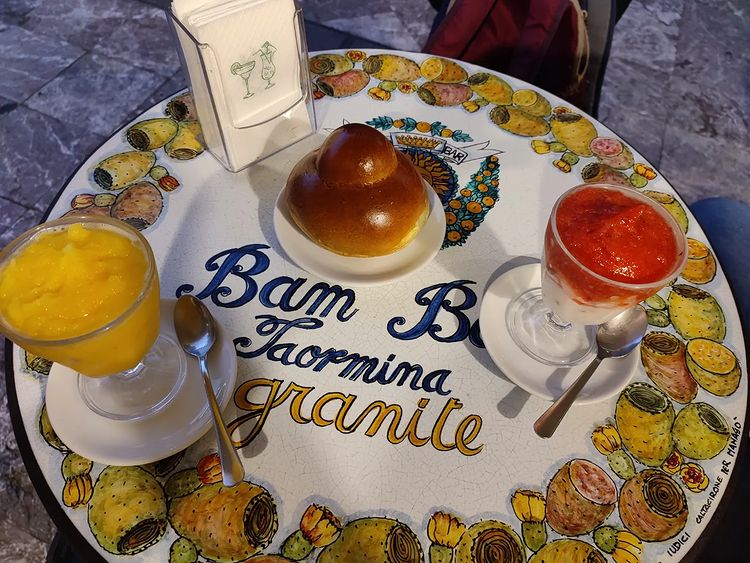 Chilling sunset with an Aperol Spritz or a granita to the BamBar is a Things to do in Taormina.
Taormina has been featured in several films, including "The Godfather" and "The Big Blue," as well as in the television series "The Young Pope" and maybe the most famous "The White Lotus 2" a television series that premiered on HBO in 2021.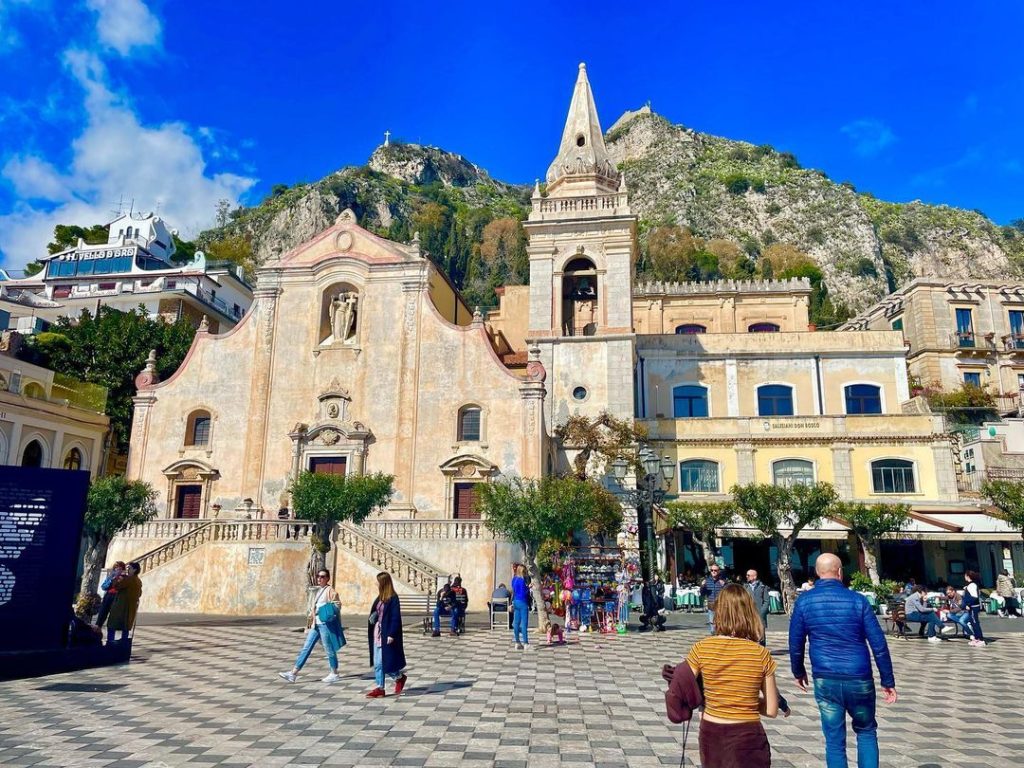 For The White Lotus season 2 the San Domenico Palace Hotel, a former Dominican convent with origins dating back to 1374, was chosen.
Where are The White Lotus season 2 filming locations in Sicily? Here five locations that you can visit: Taormina – San Domenico Palace – Cefalù – Noto – Mt. Etna