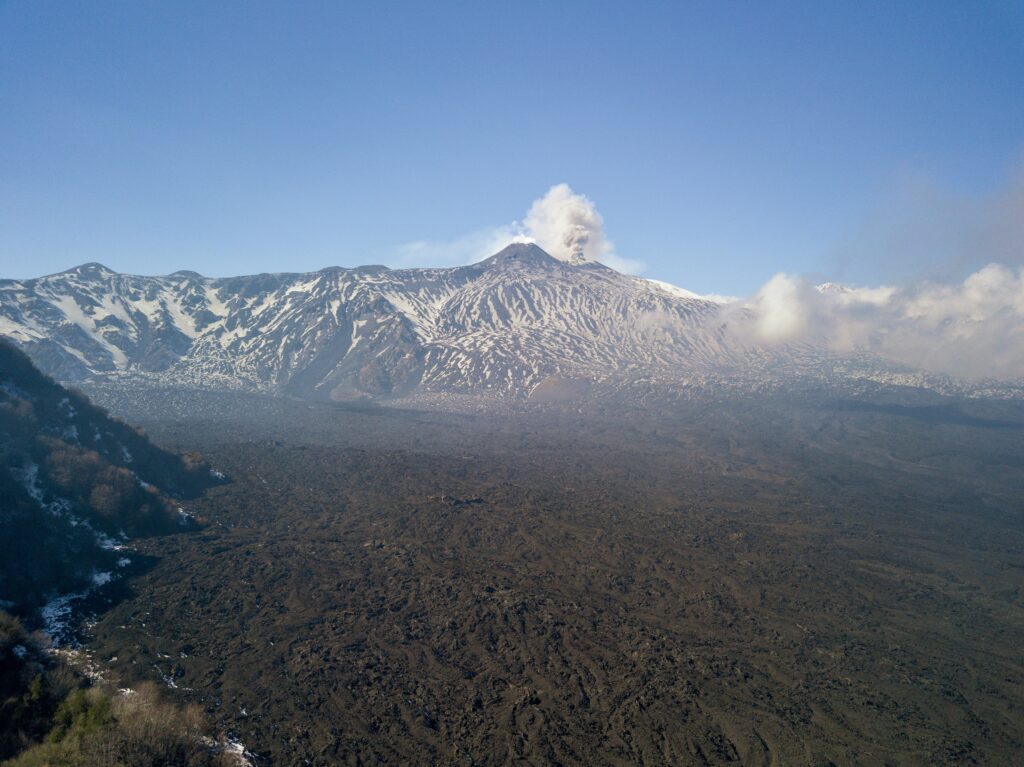 Declared a UNESCO World Heritage site in 2013 for its "exception level of volcanic activity" as well as global scientific, culture and educational importance. As Sicily's most beautiful natural attraction, this massive mountain is worlds away from the lazy beaches and historic architecture throughout the rest of the island but it's also one of the top attraction in Sicily. It's a lunar landscape of black sand, volcanic rocks, and oozing lava flows that is as stark as it is beautiful.
Set on the eastern coast of Sicily, Mount Etna is Europe's largest and highest (active) volcano, one of the most active (in the sense of productive and eruption frequency) volcanoes on Earth. In Sicily, we call Mt. Etna "The Mountain" a muntagna in the local slang but Etna is the big Mamma too, cause She is a Lady!!
Mount Etna's mythology is a fascinating and complex blend of ancient beliefs and tales of gods, goddesses, and fiery eruptions.
Mt. Etna sits closest to the city of Catania and on a clear day, the volcano is visible from well over half of Sicily. It is the highest mountain south of the Alps and the highest active volcano in all of Europe and it's very safe volcano to visit. Watching a lava flow (from a safe distance) on a starry night should be one every travelers' bucket list. Whatever time of year you go, Mt. Etna offers the best views of the entire island. 
Mount Etna is the subject of widespread interest, and at the same time erroneous and misleading information. You can feed your curiosity here, our volcanic FAQ.
The volcanic soil is extremely fertile, vineyards, apple, chestnut and hazelnut orchards grow on terraces cut into the lower slopes of the mountain. A visit on Etna is complete with a local wine tasting; grapevine grows on the rich volcanic ash. It is a hyper-local product and one of the region's unique treasures. Wine lovers claim that the wine from Etna alone is enough reason to visit Sicily.
Mount Etna visiting is all about being outside, so be sure you bring enough layers to prepare for typically more extreme weather the higher you go on the mountain. You'll want a jacket not only for the cold, but also to protect your skin against the sun and potential flying ash or dust if it's windy. On that note, a pair of sunglasses is useful too. Wear sturdy tennis shoes or hiking boots if you plan on hiking the volcano and don't forget your camera.
If you are planning a tour on Etna, do not miss all the info here.
The treasures of Mount Etna