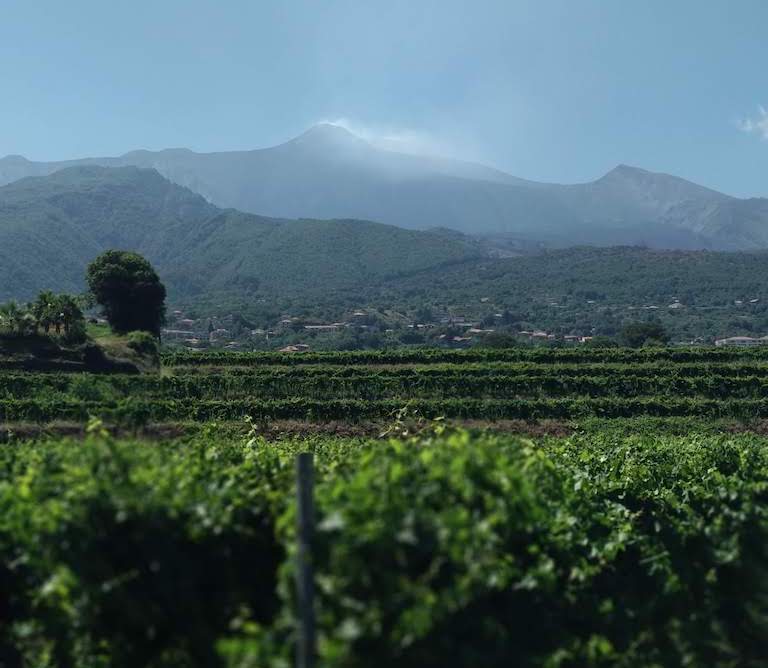 One of the important wine regions in Sicily is the Etna DOC. It runs across the northern, eastern and south sides of the volcano. The volcano itself is about 24 miles wide, and almost 11,000 feet high, with intense fertility but the fertility differs from one winery to the next, from one contrada to the next and sometimes more narrowly, depending on the soil composition. It's a natural phenomenon. Unique volcanic soils and high-altitude vineyards, which produce wines with distinctive flavors and aromas.
The Etna wine is made primarily from the Nerello Mascalese grape variety, which is indigenous to the region. The grape is known for producing wines with a light body, high acidity, and notes of red fruit, spice, and minerality. In addition to Nerello Mascalese, Etna red wines contain other grape varieties such as Nerello Cappuccio; white wines Carricante, and Catarratto.
Today, on its almost 2,350 acres (more consolidated now than before) there are about 166 wine producers, making high quality wines that are in high demand. Against the odds, with so many obstacles in their way, including an active volcano, they have made it. Determination, perseverance and patience flows.
As of 2011, the production regulations for Etna's Denominazione di Origine Controllata, the oldest in Sicily, established in 1968, recognise the presence of 133 contrade (districts) within its area, which extends over 20 municipalities, legally equivalent to Additional Geographical Units (UGA). In the long work of reconnaissance of the territory, the updating of the boundaries led to the identification of 9 new contrade, thanks to the collaboration of the Consortium's member producers, which will be officially included in the next update of the production regulations. The new Contrade Map thus has 142 Contrade, divided into the territory of 11 municipalities.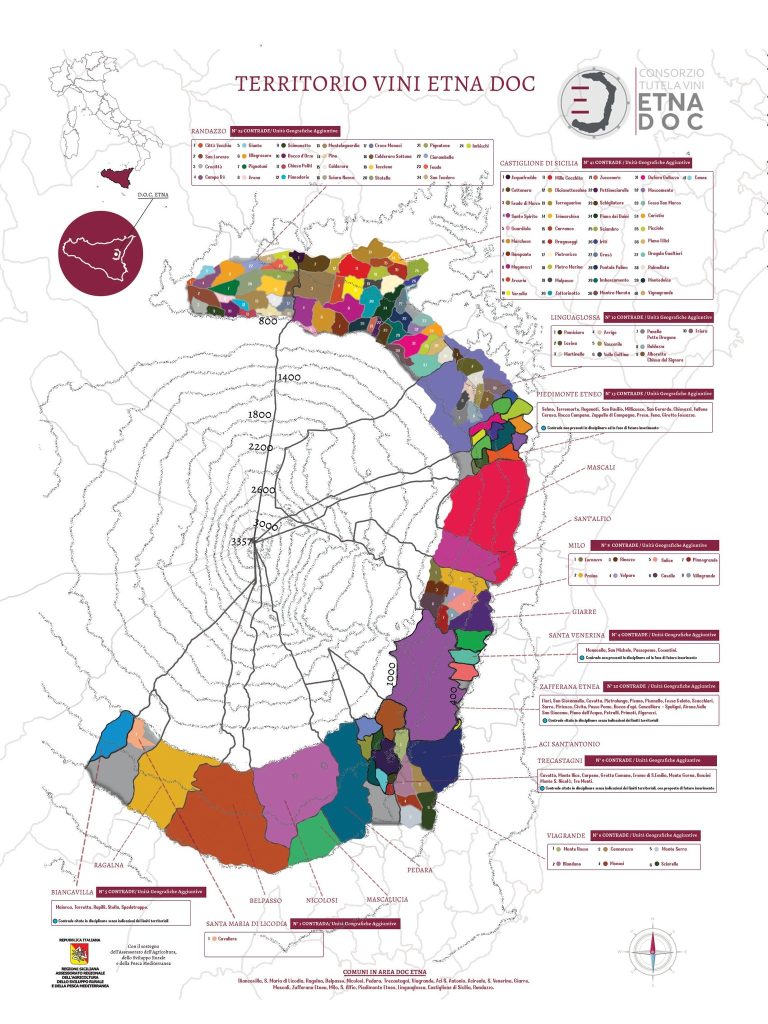 fonte: consorzioetnadoc.com
The volcanic soil of the Etna region is an important factor in the unique character of the Etna wines. The soil is rich in minerals such as iron, potassium, and magnesium, which give the wines their distinctive minerality and depth of flavor.
Etna wine of is often aged in oak barrels, which can impart additional flavors of vanilla and spice to the wine. The wine is typically medium-bodied, with a bright acidity and a long finish.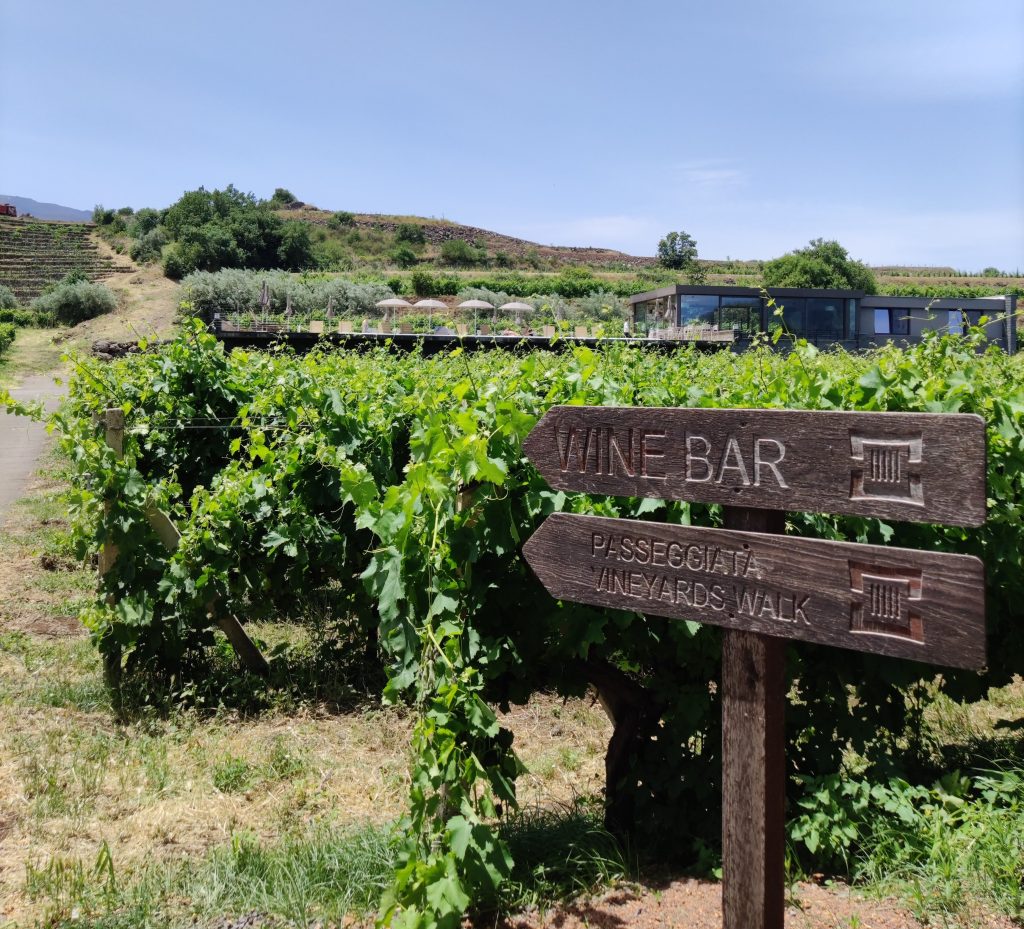 Red grape varieties
Indigenous grapevines
Nerello Mascalese
This is the red grape of Mt.Etna and is the main constituent of Etna Rosso DOC wines and most other red wines produced on the volcano. Nerello Mascalese wines generally have a light red color, aromas of red fruit, exotic spices (cinnamon and star anise), dried herbs and minerals. The fruitiness is balanced by a distinct mineral salinity thanks to the lava soils and the breezes from the Ionian Sea.
Nerello Cappuccio
Based on Mt.Etna, traditionally it has been used as a minor blending partner (max. 20%) for Nerello Mascalese in the production of Etna Rosso DOC and other red or rosé Etna wines.
Nero D'Avola
The most important red grape variety in Sicily is Nero d' Avola. It is used with other varieties, with Frappato (to make Cerasuolo di Vittoria) and with Syrah. Nero d' Avola wines generally have a dark ruby color, juicy berry fragrances and spicy, chocolaty aromas that can tend towards licorice. To the taste they're full-bodied, with a fine balance between fruitiness and peppery spice, and good levels of acidity and tannins.
Frappato
Traditionally cultivated to complement Nero d'Avola in Cerasuolo di Vittoria wines, Frappato is almost uniquely grown in the southeast of Sicily. These have a ruby-violet color that is complemented by aromas of red berries and violets.
Perricone
Used alone to make strong full-bodied wines or, occasionally, as a blending grape, Perricone is cultivated predominantly in western Sicily. Perricone wine is dark ruby red with purplish hints. When decanted, well-structured and velvety with plenty of fruit and a relatively high alcohol content.
Non-Sicilian grapevines
The most important non-Sicilian red grape grown on the island is Syrah (Shiraz)and it's used on its own to produce robust, peppery wines but is also combined with other grapes, particularly Nero d' Avola.
Merlot, Cabernet Sauvignon are used on their own or blended, often with Nero d'Avola or with each other. Pinot Noir, meanwhile, is increasingly cultivated on Mount Etna to produce single varietal wines of great interest.
---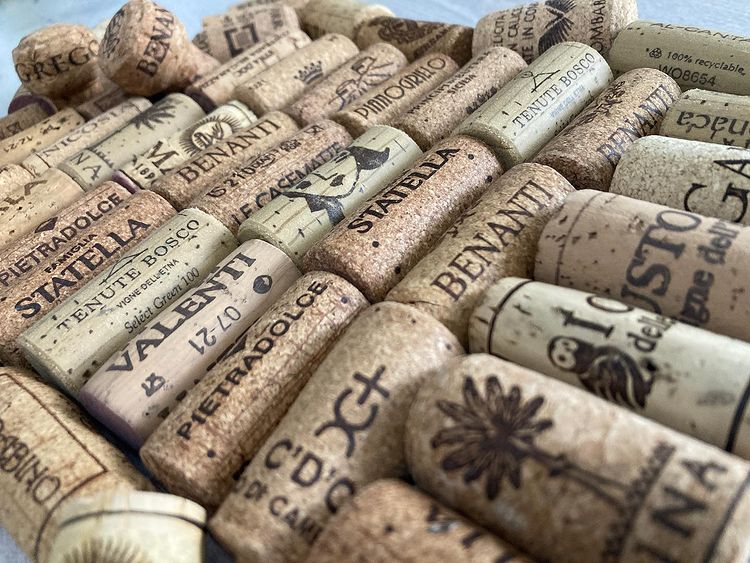 White grape varieties
Indigenous grapevines
Carricante
All Etna Bianco DOC wines contain at least 60% Carricante (this minimum rises to 80% for Etna Bianco Superiore DOC). Carricante also produces a great Champagne-method Brut. 100% Carricante wines generally have a pale golden hue with green flashes, while to the nose they brim with fruitiness and floral aromatics. In the mouth, they are a complex mix of citrus fruit, green apple, aniseed and herbs, all rounded off with a moreish minerality that betrays their volcanic origins.
Cataratto
It is generally used as a blending grape, as its gentle aroma and flavour profiles provide a good balance to the more pronounced characteristics of other Sicilian varieties. It is frequently added to Carricante to produce Etna Bianco DOC wine.
Zibibbo
Zibibbo was introduced to Sicily by the Arabs over 1,000 years ago. Most commonly, Zibibbo grapes are dried in the sun to concentrate their sugar content and then transformed into honeyed dessert wines, the most famous and prestigious of which is Passito. Pantelleria is where it is found in abundance, where it grows on steep, impossible hills, baked in the sun and blown by the wind. It feels like summer and winter in a glass.
Grillo
One of western Sicily's big three white grapes, Grillo is used on its own or blended with other varieties, most famously with Inzolia, Catarratto and Damaschino to produce Marsala. Grillo wines are elegant, refreshing and fruity to the nose.
Inzolia
Inzolia is used for both single varietal wines and blends. 100% Inzolia wines have an attractive straw-yellow color with verdant hues. To the nose, there are floral aromas, fruity elements and a nutty, herbaceous softness. In the mouth, it is a soft, agreeable wine with an elegant minerality.
Grecanico
Grecanico is an ancient variety that is making something of a comeback, particularly as one part of a double-act with Sauvignon Blanc.
Malvasia Bianca
Malvasia Bianca is combined with about 5% Corinto Nero to produce the Malvasia delle Lipari.

Non-Sicilian grapevines
Of the non-indigenous white grape varietals grown in Sicily, Chardonnay, Fiano, Müller-Thurgau and Viognier are perhaps the most diffuse. Sauvignon Blanc is also present in some areas, while on Mount Etna, a few producers have begun creating excellent quality Reislings.