This very popular pasta dish hails from eastern Sicily. Compositor Vincenzo Bellini (1801–1835) is one of Catania's most famous sons and many places in the city are named for him. His most famous opera is Norma from which the instantly recognizable Casta Diva comes, and which achieved instant success in Milan. The pasta, invented in Catania had the same success, someone tasting it said: 'Wow, this dish is a real Norma!'.
It consists of pasta, tomato sauce, basil, fried chunks eggplant and a generous amount of grated ricotta salata (salted ricotta cheese) on top.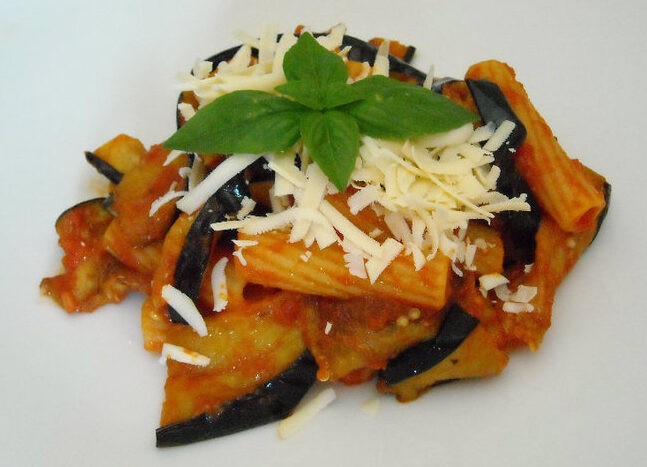 Ingredients (serves 4 people)
2 Large aubergines
4 Chopped tomatoes
1 Clove garlic
A bunch of basil
Extra virgin olive oil
100gr Grated salted ricotta cheese
500gr Maccheroni pasta
Cut the aubergines into small cubes and fry until golden brown in olive oil. Take out and place on kitchen paper to remove some of the oil.
Dip the garlic in some olive oil, add the tomatoes, tear in some of the basil and season to taste. Stir well and leave to cook slowly with a lid on for about 30 minutes, stirring occasionally.
When the sauce is almost ready, cook your pasta, drain and add to the tomato sauce. Mix well and place in a serving bowl. Top with the chunks of aubergine and a few torn basil leaves and take to the table with another bowl of grated salted ricotta cheese.
Buon appetito!